Indien Dezember 2018
Wacht der schlafende Koloss auf?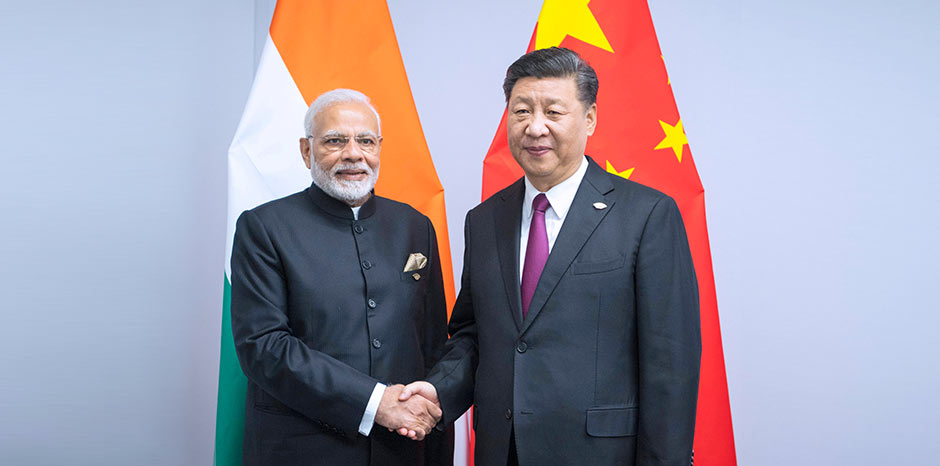 DA SICH CHINAS WIRTSCHAFT VERLANGSAMT, WENDEN SICH ALLE AUGEN AUF DER SUCHE NACH WACHSTUM NACH INDIEN: DER CHINESISCHE PRÄSIDENT XI JINPING SCHÜTTELT DEM INDISCHEN PREMIERMINISTER NARENDRA MODI BEI EINEM TREFFEN DES G20-GIPFELS ENDE NOVEMBER IN BUENOS AIRES DIE HAND. LI XUEREN AP XINHUA KEYSTONE
For the second quarter of the financial year (Q2FY19), India's GDP grew at 7.1%, falling slightly below estimates of 7.5% as consumption demand and farm sector growth moderated. Lowered inflation, strengthening Rupee, crude oil decline and a dovish commentary from the US Federal Reserve could lead the Reserve Bank of India (RBI) to shift to neutral outlook and pause rate hikes.
Our interactions with banks and regulators indicate that the stress caused within the Non-Banking Financial Company (NBFC) sector following the default of infrastructure company IL&FS, is now contained. The government has emphasized that easing the credit crunch within the system should be the main priority. Their proposals include reducing capital ratios for banks and the transfer of excess RBI reserve to the central government to maintain growth momentum. The RBI, meanwhile, is concerned with long term goals such as financial system stability and meeting inflation targets. Thus the markets were relieved when the recent meeting between both parties ended in a truce, with the RBI placating the government by referring the dual issues of surplus reserve transfers and easing restrictions on troubled banks to its expert committees. Further support in the borrowing market came in the form of a framework introduced by the securities regulator mandating that a quarter of large corporates financing needs for the fiscal year has to originate from the corporate bond market as part of an effort to deepen bond markets and reduce companies' reliance on banks for funding.
Return of foreign investors
Along with other emerging markets, India saw some respite in November, among other things, due to a seeming trade truce between China and the US and the crude oil decline. For the first time since March, foreign institutional investors were net buyers of Indian equities but domestic equity investors nevertheless remain cautiously on the sidelines awaiting more clarity ahead of the election vote count for five state assemblies on December 11. The second quarter earnings season for FY19 came to a close, where it was evident that after a strong Q1, earnings growth have moderated to 11-12% due to cost pressure from raw material prices and borrowing rates, and Rupee depreciation over the quarter. These margin pressure points have thankfully eased-up, and coupled with expected government spending in the run-up to the general elections, should halt the marginal downgrade in earnings for the whole FY19. Moreover multiple Indian festivities that historically have fallen in the second quarter, boosting consumer demand, now occurred in the third quarter, hence Q3FY19 should see better growth figures.
Positive trend in November
Large caps led the rally with the NSE Nifty 50 Index up 11.1% while the Nifty Smallcap 100 Index and the Nifty Midcap 100 Index gained 8.9% and 8.1%, respectively in USD terms. Padma India Fund posted a gain of 6.9% in November. The performance within sectors were strongly positive, with the exception of consumer discretionary names such as V2 Retail and Shankara Building Products dragging on performance since September, while on a stock level Britannia and KEI Industries were the top outperformers. V2 Retail is a clothing retailer focused on small towns and cities. The company's strategy is to establish its retail brand in north, east, and central India by increasing its retail space to 1mio square feet by the end of FY19. Although aggressive store roll-out has caused higher fixed cost it should nonetheless account for 42% of revenue growth in FY20.