Indien Oktober 2018
Stürmische Zeiten bieten neue Chancen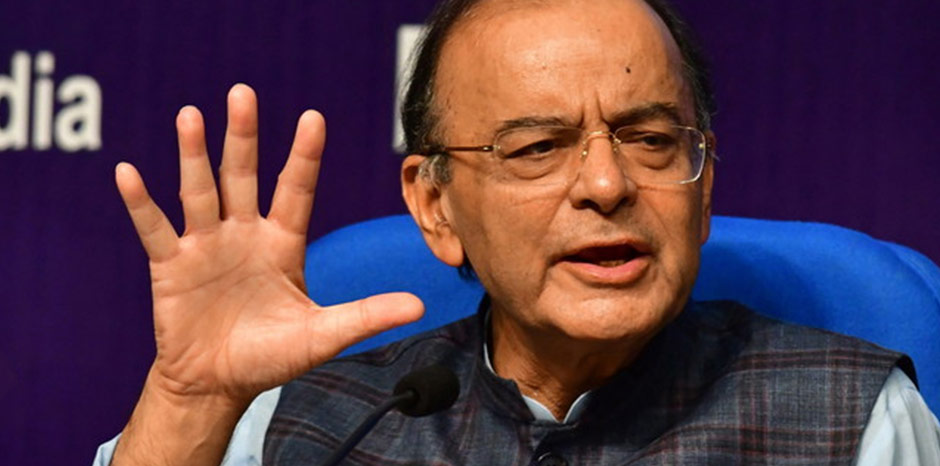 Indiens Finanzminister Arun Jaitley erlebt stürmische Zeiten: Die Schwäche der Rupie, das Handelsdefizit, der hohe Ölpreis und Panikverkäufe am Aktienmarkt drücken die Stimmung. STR KEYSTONE
Anleger haben sich jüngst mit Panikverkäufen aus dem indischen Aktienmarkt verabschiedet. Die Schwäche der Rupie, der Handelskonflikt, der hohe Ölpreis: Indien erlebt derzeit stürmische Zeiten. Doch mit Blick auf die Fundamentaldaten ist der Outlook für Indien ungebrochen positiv. «Es ist nicht der Moment, zu verkaufen sondern Zeit, die Positionen auszubauen», ist Chrys Kamber, Head of Indian Investments überzeugt.
The September headlines were dominated by the Indian financial sector. Starting with one of India's largest infrastructure financing companies IL&FS, defaulting on its commercial papers lighting up the fear of other potential candidates in the non-banking financing space who might face the same situation. Loss of investor confidence and fear have triggered a panic sell-off by both domestic and foreign investors without any consideration to the fundamentals.
Angst vor faulen Krediten geht um
On Friday 21st, the sale of Dewan Housing Financing Ltd. (DHFL) bonds at a significant discount by a domestic mutual fund due to speculation of potential default added fuel to the fire. However, the chairman of DHFL denied any default in their obligations and assured that the company has ample cash. His announcement helped to stabilize the free fall of the stock prices but failed to soothe the fear of market participants. Padma India Fund has no exposure to either of these companies and exited from non-banking financing companies, mainly housing financing and consumer financing companies, last year with the exception of Bajaj Finance. Padma will maintain the exposure in Bajaj Finance. It is India's largest consumer durable financing company with minimal delinquencies and a solid track record. Bajaj has proven its strength through various interest rate cycles but nonetheless became collateral damage in recent events.
RBI erhöht Druck auf den Bankensektor
The Reserve Bank of India's determination in cleaning up the Indian banking sector is remarkable. It has begun to implement stricter market and regulatory discipline which have positively disrupted the Indian banks. As a consequence, Yes Bank CEO's second extension period was cut short to 4 months and the remuneration of Bandhan Bank's MD and the new branch expansion was freezed for failing to reduce the promoter holding from 82.5 % to 40% within the deadline. Padma sold Yes Bank last year and has no exposure to Bandhan Bank. It stays invested in IndusInd Bank and City Union Bank.
Alle Indizes im roten Bereich
All indices were in the red this month. The NSE Nifty 50 Index lost 8.6% while the Nifty Smallcap 100 Index and the Nifty Midcap 100 Index lost 21.7% and 15.9% respectively in USD terms. Padma India Fund posted a loss of 15.1% in September. All the sectors were in the negative territory this month. Financials, consumer staples and discretionary sectors had steeper correction than other sectors while the healthcare sector managed to have a lesser impact. On the stock level, Bajaj Finance and V2 Retail were the top underperformers. V2 Retail is India's fastest growing fashion retailer catering to mid and smaller cities. The per capita income in these cities are rising faster than the national average which bodes well for V2 Retail. The company produces affordable fashion with a gross margin of 32% and has strong earnings visibility and zero debt. Its focus on high margin apparel business, efficient inventory management and emphasize on stores with average size of 10'000 – 11'000 sq. ft will support the company's success.
Frequently asked questions
What is driving the correction in the Indian equity market?
Both global and domestic factors are driving the Indian equity market. Primary factor is the negative global sentiment as a result of the ongoing trade war, which incites market participants to play very safe. High volatility, rising crude oil prices, US dollar appreciation against INR and a widening current account deficit are other factors pressurizing the broader market. Although the Indian fundamentals remain intact and the above-mentioned headwinds are already factored into the prices, the expectations of the market participants remain low. The Nifty 50 index reached its all-time high in Indian rupee terms on August 28, but it failed to beat the January high in US dollar terms. It is noteworthy that the NSE Nifty 50 Index was riding on just five companies contributing roughly 36% of the Index, while the rest of the companies in the index are still struggling.
As for the domestic factors, the re-imposition of the long-term capital gain tax initially started the sell-off trigger (profit booking). But the real pressure came with the new rule related to the market cap categorization, which forced institutional investors to re-align their portfolios, with the result of a further sell-off in small and mid-cap stocks. Interestingly, there has been no deterioration in the fundamentals that would justify the sell-off.
September was an eventful month in India. Various news flows related to debt defaults affected the Indian financial sector. Infrastructure Leasing and Financial Services Ltd. (IL&FS), one of India's largest infrastructure financing companies, defaulted on its commercial papers, following which a sell-off occurred based on fear of contagion. This seems to me like a panic sell-off by both domestic as well as foreign investors despite the underlying strength of the companies. Then the mayhem on Friday, 21 September followed. Stock prices across the board witnessed the biggest intra-day fall in 2018. The sales of the Dewan Housing Financing Ltd. (DHFL) NCDs at a significant discount sparked speculations around liquidity issues, which was strongly denied by the chairman. The Padma India fund has never invested in either DHFL or IL&FS. When you take a closer look, IL&FS has no exposure in the housing sector or related to consumer credits. Market participants seem to have stopped to differentiate and tend to paint all the NBFCs with the same brush.
Furthermore, the RBI is adamant in cleaning up the Indian financial sector and implementing stricter market and regulatory discipline, which stirs up the banking sector. The RBI has reduced the tenor of the CEO of YES Bank (he is the majority shareholder with a 10% stake in the bank) to less than 4 months. Although the board and the shareholders have approved the CEO's re-appointment, the RBI denied. And a couple of days ago, the RBI froze a new branch expansion and the remuneration of the MD & CEO (founder and promoter) of Bandhan Bank for failing to reduce the promoter holding from 82.5 % to 40% within the given deadline.
The combination of all the above factors formed a perfect storm in the Indian equity market and created uncertainty, which market participants like the least. Hence, I think that the market will remain volatile until the dust settles down and until we have come to clarity on the general elections front (due in May 2019).
What is the cause of the current stress in the non-banking financing sector?
Well, digitalization, demonetization and the goods and services tax implementation have increased transparency in the system. Demonetization has helped the savings to move towards mutual fund investments and digitalization has encouraged the shift of unformal borrowing to formal borrowing. A couple of years ago, the Indian government was deleveraging to reduce their debt to GDP exposure and corporate India was deleveraging as well. But the Indian households were in great health and had room for leveraging potential. The banks were busy with categorizing the non-performing loans and building adequate provisions. So the non-banking financing companies were prospering with high growth at this time. They were benefiting from ample liquidity and some of them followed the strategy of borrowing short term and lending long term. This was comfortable till the INR depreciated and the RBI began hiking interest rates. Thus, the debt mutual funds were facing redemption, resulting in the tightening of short-term liquidity. The companies with their assets and liabilities in mismatch will face the biggest risks in this environment. Banks with a strong balance sheet will steer through and gain market share at the cost of weak NBFCs. We remain invested in IndusInd Bank and City Union Bank due to their high growth prospects and strong balance sheet.
We went out of the non-banking financing companies last year, except Bajaj Finance. Bajaj Finance is India's largest consumer financing company with minimal delinquencies and a solid track record. It has proven strength through various interest rate cycles but the stock had to endure some collateral damage due to the recent events.
How are you approaching the market these days?
You know, we have seen these cycles of steeper correction and fast recovery for different reasons over the years and every cycle is a learning curve for us. The RBI stepped in to infuse liquidity through OMO buybacks to bring down the yields. It is not about the liquidity but a loss in confidence and fear which drives the market. We are not panicking and we see this pricing mismatch as an opportunity. This is an ideal moment to separate the wheat from its chaff. We have reduced a number of positions and increased the weight in the holdings having high quality management, earnings visibility and a low profit volatility. These companies are attractively valued despite their high growth potential.
After a 55% return last year, Padma is in the negative zone on an YTD basis. What is the reason behind this underperformance?
As I mentioned earlier, the correction was sharp in the small and mid-cap stock prices. Padma has roughly 85% exposure to companies below the market cap of USD 5 billion and in this category of companies, the correction began in February already. They got heavily impacted in the recent financial dilemma as the fear spread out across all the sectors.
Despite strong domestic inflows (flows into the systematic investment plan are over USD 1 billion on a monthly basis), the domestic institutional investors are either holding cash or investing in selective large cap companies. As a consequence, these companies are trading at significantly higher valuations. The high net worth individuals (HNWI) who were very active in the small cap segment have retracted as well. So the lack of participants keeps the small cap stock prices under pressure despite having strong fundamentals for growth. The valuations have come off from their peak levels and many of the high quality small cap companies have been unfairly hammered. Padma also bore the full impact of the INR depreciation of 13% (YTD) since we do not hedge the currency. Many companies have reported stellar profit growth in the last quarter but despite the strong underlying fundamentals, their stock prices have corrected significantly. I truly believe that there is significant upside potential for investors who are thinking mid to long term.
What would help the small and mid-cap companies to rebound?
As mentioned before, the negative factors are already priced in and the market is mainly driven by fear, rather than fundamentals. I am very confident that we will see a rebound when we move closer to the general elections and once the dust is finally settled in the NBFC space. By then, domestic institutional investors will start deploying funds quickly in order to profit from the favorable valuation levels, followed by the HNWIs.
What are the challenges that you are facing currently?
I find it quite challenging to convince investors not to sell now but that it is rather the time to accumulate. When you see such a sharp correction and the NAV is hitting 52-weeks low every day, it is no easy task. The amplitude of return and loss in emerging markets is higher compared to developed markets, and with it the willingness to sell. Fear is always a bad advisor. I decide based on fundamentals, with a mid to long-term view. And the outlook is very promising in my opinion.
Haftungsausschluss
Diese Webseite stellt weder ein Angebot noch eine Aufforderung zum Kauf oder Verkauf von Wertpapieren dar und dient lediglich zu Informationszwecken. Investitionen sollten erst nach gründlicher Kenntnisnahme des aktuellen Prospekts und/oder des Fondsreglements, des aktuellen vereinfachten Prospekts, der Satzung sowie der aktuellen Jahres- und Halbjahresberichte erfolgen. Die genannten Unterlagen sind in Papierform und kostenlos erhältlich bei M.M.Warburg & CO Luxemburg, 2, Place François-Joseph Dargent, L-1413 Luxemburg und beim Vertreter in der Schweiz PMG Fonds Management AG, Sihlstrasse 95, CH-8001 Zürich, www.pmg-fonds.ch. Zahlstelle in der Schweiz ist die InCore Bank AG, Stauffacherstrasse 41, CH-8004 Zürich. Informationsbüro und Zahlstelle in Deutschland ist M.M.Warburg & CO (AG & Co), Kommanditgesellschaft auf Aktien, Ferdinandstraße 75, D-20095 Hamburg. Der Sitz des Fonds ist Luxemburg.
Die steuerliche Behandlung der Fonds hängt von den persönlichen Umständen jedes Kunden ab und kann sich in Zukunft ändern.
Die "Richtlinien zur Gewährleistung der Unabhängigkeit der Finanzanalyse" der Schweizerischen Bankiervereinigung gelten nicht für diese Webseite. Bitte beachten Sie, dass es möglich ist, dass die Picard Angst AG. selbst ein Interesse an der Kursentwicklung eines oder mehrerer der in diesem Dokument genannten Wertpapiere hat. Der Wert der Einheiten und die Rendite, die sie generieren, kann sowohl nach unten als auch nach oben gehen. Beide sind von Marktvolatilitäten und Wechselkursschwankungen betroffen.
Die Picard Angst AG. übernimmt keine Haftung für eventuelle Verluste. Die Wertentwicklung vergangener Werte und Renditen ist kein Indikator für deren aktuelle oder zukünftige Entwicklung. Die Wertentwicklung und Rendite beinhaltet nicht die Gebühren und Kosten, die beim Kauf, Verkauf und/oder Tausch von Einheiten anfallen können. Die Aufgliederung nach Sektoren, Ländern und Währungen und deren jeweilige Positionen sowie gegebenenfalls angegebene Benchmarks können sich im Einklang mit der im Prospekt dargelegten Anlagepolitik jederzeit ändern. Alle Meinungen können ohne Vorankündigung geändert werden. Die Meinungen können von den Ansichten in anderen Dokumenten, einschliesslich Forschungspublikationen, die von Picard Angst AG. veröffentlicht wurden, abweichen. Weder diese Webseite noch ein Teil davon darf vervielfältigt oder weitergegeben werden.
Obwohl die Picard Angst AG der Ansicht ist, dass die hierin enthaltenen Informationen auf zuverlässigen Quellen beruhen, kann die Picard Angst AG. keine Gewähr für deren Qualität, Genauigkeit, Aktualität oder Vollständigkeit übernehmen.
Bitte beachten Sie, dass in jeder Rechtsordnung, in der ein Fonds, Teilfonds oder eine Aktienkategorie nicht für das öffentliche Angebot registriert ist, diese unter Beachtung der geltenden lokalen Vorschriften nur im Rahmen einer Privatplatzierung oder institutioneller Investitionen verkauft werden dürfen. Der Fonds darf weder innerhalb der Vereinigten Staaten vertrieben noch an US-Personen angeboten oder verkauft werden.
Die Picard Angst AG. ist Vermögensverwalterin von kollektiven Kapitalanlagen nach dem Bundesgesetz über die kollektiven Kapitalanlagen und wird von der Eidgenössischen Finanzmarktaufsicht reguliert.